Solid ball head with extra 360° panning stage above the ball for a convenient and quick horizontal and vertical alignment of the camera for panorama, landscape, architectural or macro photography. That is why time-consuming length adjustment of the tripod legs for accurate alignment is not necessary when the tripod is placed on uneven ground or when the shooting position is changed. 

For compacts, CSC, DSLR, video cameras/camcorders.

Quick release system with dovetail clamping and blocking screw (Arca-Swiss compatible). Quick release plate with non-slip surface, 1/4" D-ring screw with coin slot and hexagon socket.

Adjustable friction. Locking knob with inset tensioning dial for setting the "released" tension. Can be tilted by 90° for portrait shots.


360 degree panning socket with blocking screw and graduated scale.

Two spirit levels, for horizontal and vertical alignment.

3/8" tripod bush.

Protective bag included.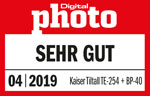 Specifications:
Code no.

7072
7073
Type
BP-40
BP-50
Ball diameter (mm/in.)
38 / 1.5
44 / 1.7
Socket diameter (mm/in.)
54 / 2.1
60 / 2.4
Height (mm/in.) 
95 / 3.7
103 / 4.1
Weight (g/lbs.) 
450 / 1.0
530 / 1.2
Max. load (kg/lbs.)
10 / 22.0
12 / 26.4
Incl. quick release plate
7075
7075
Suitable for tripods

TE-224/254
TC-224/254

TE-284/324
TC-284/324
TCH-364/404
Can be tilted by 90° for portrait shots.
Accessories