Portable desktop studio for photo and video shots of small subjects (T4730 LED) or small up to medium-sized subjects (T6240 LED), e.g. for product photography, web shops and video blogs.


Three built-in LED lights (on left and right side and on top), each of them dimmable, allow for an individual light guidance and provide for optional even or accentuated illumination of the subject. The lights are equipped with daylight-type 5600 Kelvin LEDs, the color rendering index (CRI) is 95.
Compact and sturdy box with aluminum frame and metal carry handle.
The desktop studio is set up in no time at all: The silver reflecting side panels and the top and bottom panels, silver reflecting as well, are folded open, the background carrier is erected and a background cardboard attached to it.
Single-color background cardboards of white, gray, black, yellow, blue and pink are included.
Also included is a crossbar to hang up subjects for free-floating photography.
The desktop studio comes with a storage bag for transportation and space-saving storage for the studio and all accessories.
Scope of supply: desktop studio, mains lead, background cardboards (white, gray, black, yellow, blue, pink), clamps to attach the background cardboard, crossbar with two clip-on mounts, two spare fuses and storage bag.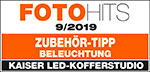 Specifications:
3698: T4730 LED
For subjects up to (WxH): approx. 30 x 30 cm (11.8 x 11.8 in.)
Light source: three built-in LED lights with High-CRI LEDs
Color temperature: 5600 Kelvin
Color rendering index: CRI = 95
Max. illumination: 7200 lux (with white background cardboard)
Power: 30 W
Operating voltage: 100-240 V
Dimensions case (WxHxD): approx. 47 x 47 x 9 cm (18.5 x 18.5 x 3.5 in.) (without carry handle)
Dimensions set-up (WxHxD): approx. 47 x 47 x 53 cm (18.5 x 18.5 x 20.9 in.)
Front opening (WxH): approx. 25 cm (9.8 in.) (bottom) / 23 cm (9.1 in.) (top) x 22.5 cm (8.9 in.)
Dimensions background cardboard: 45.3 x 60.7 cm (17.8 x 23.9 in.)
Weight: approx. 3.9 kg (8.6 lbs.)
3699: T6240 LED
For subjects up to (WxH): approx. 40 x 40 cm (15.7 x 15.7 in.)
Light source: three built-in LED lights with High-CRI LEDs
Color temperature: 5600 Kelvin
Color rendering index: CRI = 95
Max. illumination: 6600 lux (with white background cardboard)
Power: 45 W
Operating voltage: 100-240 V
Dimensions case (WxHxD): approx. 62 x 62 x 9 cm (24.4 x 24.4 x 3.5 in.) (without carry handle)
Dimensions set-up (WxHxD): approx. 62 x 62 x 67 cm (24.4 x 24.4 x 26.4 in.) 
Front opening (WxH): approx. 33 cm (13 in.) (bottom) / 30 cm (11.8 in.) (top) x 30 cm (11.8 in.)
Dimensions background cardboard: 57 x 82 cm (22.4 x 32.3 in.)
Weight: approx. 6.3 kg (13.9 lbs.)